THE 100K House – Added to Customizable Projects
It's been a few years since we built the project that started it all – THE 100K House. Between our two boys beating it up a bit and a renter in there for a few years, it's needed some sprucing up. We've re-painted, added closet and begun re-finishing the floors. While in there we asked ourselves why this project wasn't added to the site for customization? Why not? Just because it's a few years old doesn't mean we can't still offer some options.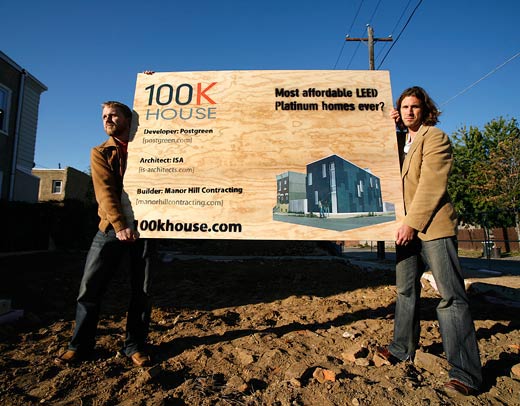 Well, now the 100K House is up on the projects page and ready for you to tweak to your heart's content. The options aren't 100% accurate due to the house being built prior to this website even existed, but it's close enough and we can work with a new buyer to figure out all the details.
This project has some unique features that don't exist so much in our current homes. Most notably is the high efficiency gas boiler that feeds an in floor radiant heating system in the exposed concrete slab. The heat quality is so far superior to forced air it's hard to describe unless you've lived with it before. In addition the bathroom has a solatube skylight, solar hot water heating and there are custom birch plywood details throughout.
100K House ribbon-cutting from John Davidson on Vimeo.
We re-posted this video above of the 100K House Ribbon Cutting to bring back a bit of the excitement that surrounded this first project. It's funny to look back at this now, but is a reminder of how much work went into designing and building this first projects while also trying to build a company and brand around it.
We'll be posting more this week and next on why we friggin' love the 100K and why you should be it's next proud owner. We'll dig into the history and philosophy behind it as well as the features. For now, head on over to the newly refreshed project page and check out the customizable options.