The Friday 5 – What We've Been Reading
We are making a commitment to up our blogging frequency this month. We've gotten a bit lazy of the past year in this area of our business and it's always been vital to our continual growth, research and continual improvement. We've gotten some of our best ideas from the research done while blogging or even from conversations sparked with our readers.
Today I am reviving Nic's old blog series – The Friday Five – where we post five articles or books that we found most interesting in the past week. I'm already excited about being given the responsibility in the office to author this as it's caused me to create a new Feedly account to replace my long lost Google Reader RSS feed. I'm still trying to figure out which blogs I followed in the past and which new ones I should add. If you have suggestions, please provide them in the commments!
OK, let's kick this thing off. Hard to believe the last one we did was in 2011…
via Architect Magazing by Thomas Fisher
This first article comes from our resident architect, Brian Ledder. This article speaks about how traditional architecture training is going through a shift thanks to things like 3D printing which we have covered in another article on this week's list below. Check it out and let Brian know your thoughts in the comments.
via BISNOW by Dees Stribling
We missed the one BISNOW real estate event of the year we always try to make. Well, here's the recap on the Philadelphia State of the Market event. The bottom line is all of the big players downtown are still quite bullish on the market. Jobs are up, the kids are staying in the city after graduation and rental demand in Center City remains strong. We see these as all good signs for the outlying and "hipper" neighborhoods we're focusing on.
Another nice thing to hear is that today's renters demand a better product with amenities and outdoor spaces that older developments didn't provide. We translate that into less outdoor space dedicated to parking, shared roof decks and courtyards. We don't have the room or budgets for buried parking outside of center city, so that often means a tough choice when trying to provide these types of amenities in a new building.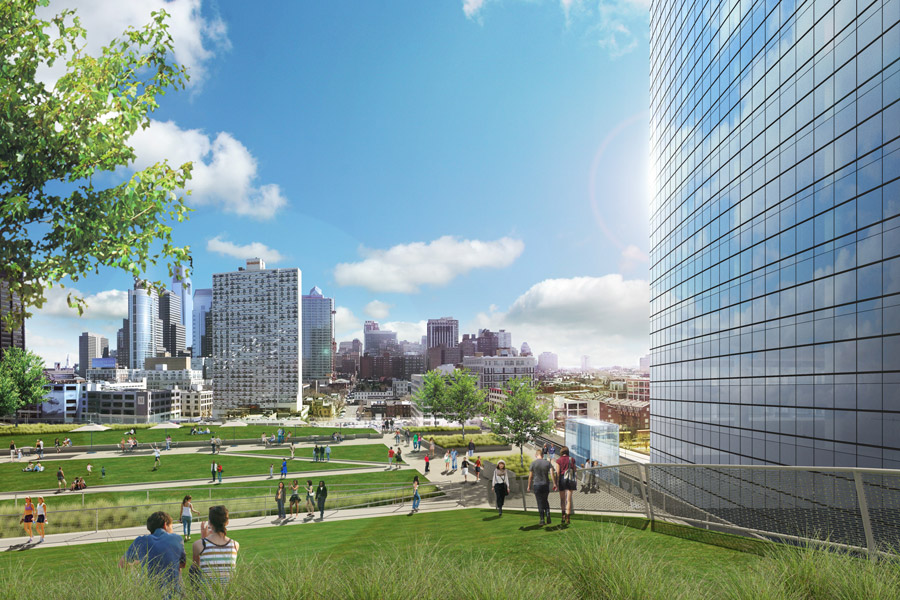 via dezeen
So we're not typically fans of promoting the Starchitects of the world out there as we prefer to support the small and local firms doing great work, but today is an exception. We just can't help being big fans of BIG. Sorry. I couldn't help myself.
Everything about this new project just seems right. The building functions as art itself and a functional bridge. The twist in the building is not only beautiful, but creates different zones of natural light, from overhead, to side, to none at all. I'm no architecture critic, so forgive my description and go check out this project from others who explain it better…
via arch daily
If you've grabbed a drink with me recently, you've probably had to listen to me babble about our dream to build small, modern, airbnb vacation cabins all over the east coast. Doubtful whether we'll ever pull off even one, but it's a fun distraction from the urban projects that take up our day to day. This is a great example of a unique project in Spain. We'll definitely be checking this VIVOOD company out some more. The boss claims she's taking me to Spain instead of the Jersey shore for next year's anniversary finally. Pitching this place already…
Reversible Concrete and 3D House Printer
via WebUrbanist and treehugger
Ok, so I snuck two into the last one on this week's list and closed the loop from our first article. I got really excited about two ridiculous 3D printer articles in one week and had to share both. One literally prints a house (well at least the walls anyways) and the other 3D prints concrete that can be disassembled and re-assembled later. Stupid awesome. Keep it up smart people.
We've got more, but we'll have to save them for next week. If you guys read something cool you think we should include, send it on over in the comments. Until next week. Enjoy the weekend and read something inspiring.